The Lighthouses of the OBX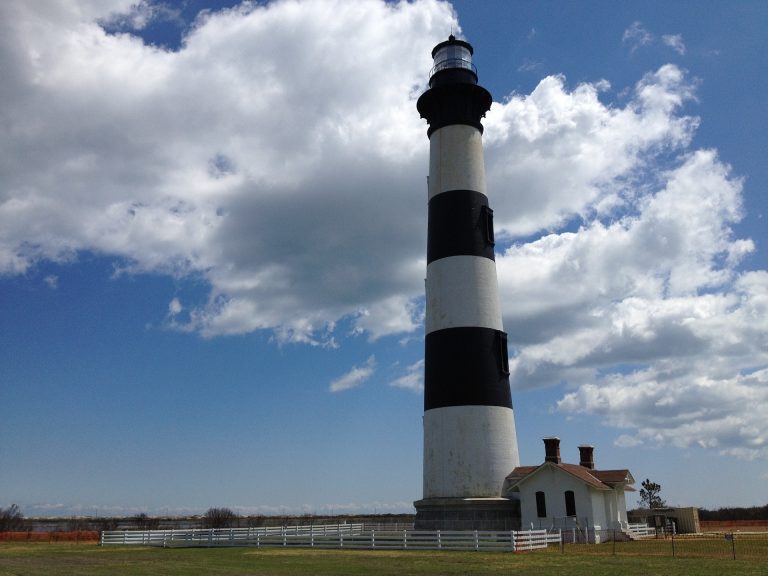 In the Outer Banks, from Corolla to Ocracoke, four lighthouses stand in the Outer Banks. They are the Currituck Beach Lighthouse, Bodie Island Lighthouse, Cape Hatteras Lighthouse and Ocracoke Lighthouse are beloved attractions, revered as much for their beauty as for their reminder of our nation's seafaring history. While GPS systems have eliminated the need for lighthouses in maritime travel, the lighthouses now make beautiful sites for visitors to explore.
Completed in December of 1875, Currituck Beach Lighthouse was the last lighthouse built on the Outer Banks. Its red was brick left unpainted to distinguish it from any other lighthouse on the East Coast. The 165' tower is located in the village of Corolla. The lighthouse, lightkeepers' homes and grounds have been restored by Outer Banks Conservationists. This is one of two Outer Banks lighthouses that may be climbed.
In South Nags Head, Bodie Island Lighthouse is painted with horizontal black and white stripes. It is the third lighthouse built on the site, with the first one a victim of faulty construction and the second one destroyed in the Civil War. The Bodie Island Lighthouse recently underwent the second phase of a major renovation. The visitor center and museum, bookstore and walking trails are open for visitors, and the National Park Service reopened the lighthouse for climbing in early spring 2013. The Bodie Island Light house can actually be seen from the side of the top deck of Ye Scurvy Sea Dog!
The black and white spiraled Cape Hatteras Lighthouse is one of the most famous lighthouses in the world, especially since it survived a highly publicized move in 1999. The Cape Hatteras Lighthouse is open for climbing, but children must be more than 42 inches tall. It was completed in 1870, the structure is 208' in height and is the tallest brick lighthouse in the United States. Its first order Fresnel lens sends a beacon 20 miles out to sea – a light that broadcasts a warning to all mariners of the treacherous Diamond Shoals, the most dangerous waters of the Graveyard of the Atlantic.
The Ocracoke Lighthouse is the second oldest continuously operating lighthouse on the East Coast. With its distinctive solid white tower and fixed beam that can be seen 14 miles out to sea, it has been guiding ships into Silver Lake since it was built in 1823. The Ocracoke Lighthouse is not open for climbing, but the grounds are beautiful, so bring your camera and take a few photos while you're there.