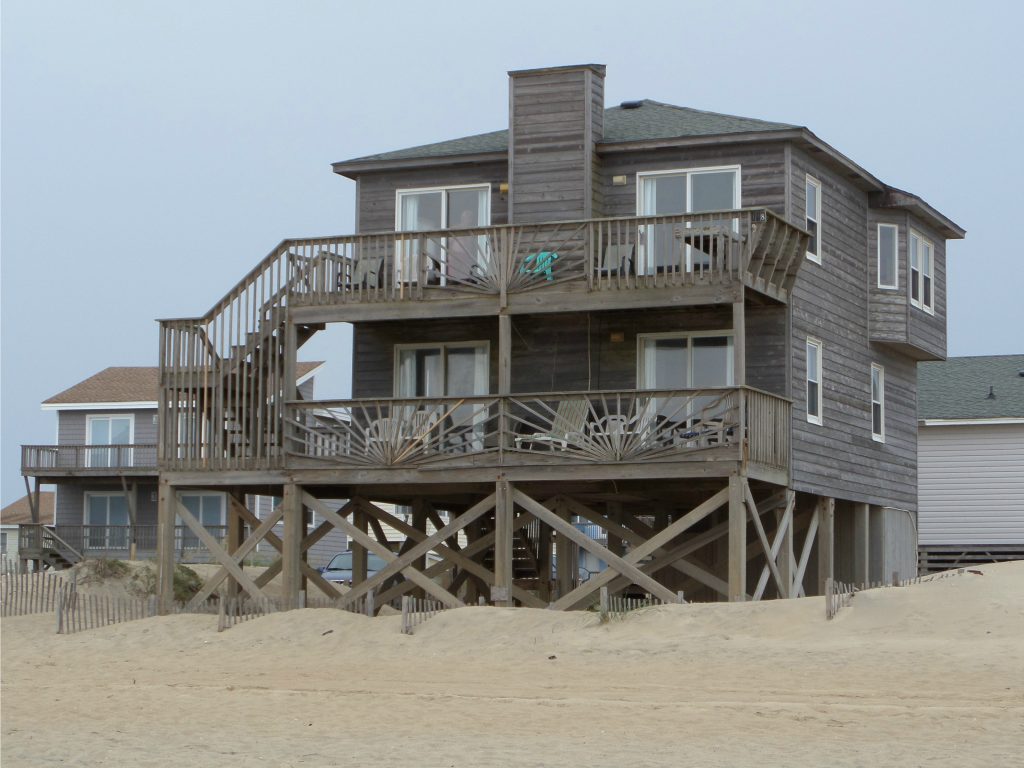 Get an Instant Quote, Inquire or Book Now!
Description
Now booking the 2018 season! New flooring installed for the living, dining and all bedrooms (some photos still to be updated)!
The Sea Urchin Inn is located in a quiet area of the Outer Banks, yet is still close to great local restaurants, shopping, and family attractions. This house was most recently featured on HGTV's Beachfront Bargain Hunt as Ocean Dreams. This BEAUTIFUL Old Nags Head style home is oceanfront, with uninterrupted views of the beach and ocean with an affordable price tag!
This comfy beachy cottage is the perfect beach getaway and has everything you need for a great family vacation. You and your family will enjoy the large, uncrowded, and family oriented beach. Our spacious floor plan includes a living room, a bright and sunny kitchen and dining area with plenty of seating for the entire family.
Relax with your morning cup of coffee on the sun deck with your ocean view – enjoying the breeze and relaxing ocean sounds. Spend your days sunbathing or splashing around with the kids at the beach. Come back and let your stress drift away under the stars while listening to the ocean sounds. Enjoy cooking your meals out on our charcoal grill or preparing them in the well stocked kitchen…and if you don't feel like cooking you're just a few minutes away from the best restaurants the OBX has to offer!
If your family has been looking to turn their vacation into wonderful memories, look no further thank The Sea Urchin Inn!
We hope you will make The Sea Urchin Inn the vacation house you return to year after year.
The Sea Urchin Inn is located on a quaint and quiet street in South Nags Head at MP 20.5, close to many fishing piers and Oregon Inlet.
Property Layout:
4 bedrooms: 2 Kings, 2 Twin Bunks, 1 Pyramid Bunk (Double bottom, Twin Top) & 1 Twin Bed
2 full bathrooms
Ground Level: Enclosed outside shower and charcoal grill
Bottom Level of Cottage: Second master bedroom with King bed, flat screen TV/Cable, sliding glass door opens to deck with ocean views. Bedroom with 2 Twin Bunks. Bedroom with Pyramid bunk and a twin bed, sliding glass door opens to deck with ocean views. Full hall Bathroom with combination tub/shower.  Laundry room with washer and dryer.
Top Level: Main King master bedroom with flat screen TV/Cable, in suite bathroom. Living room with flat screen TV/Cable and DVD player. Fully stocked large kitchen and dining area. Sliding glass doors open to top deck with ocean views.
 Linens: Comforters, pillows, bath mats, and kitchen towels are provided. You provide your own linens (sheets, pillowcases, shower and beach towels) or they can be rented through a local company. Recommendations can be provided.
 Turnover day: Saturday (off season turnover can be any day)
 Please check our Amenities or FAQ for more information regarding our rental cottage.
 Feel free to Contact Us directly for any additional questions you may have.
Amenities
The Sea Urchin Inn is a 4 bedroom, 2 bath oceanfront cottage. The house was most recently featured on HGTV's Beachfront Bargain Hunt as Ocean Dreams.
Bedroom 1: Main Master – King Bed, large dresser, flat screen TV/Cable, large closet, in suite bathroom
Bedroom 2: Second Master – King Bed, large dresser, flat screen TV/cable, closet, sliding glass doors open to lower level deck
Bedroom 3: Two Twin Bunks, dresser, closet
Bedroom 4: Pyramid Bunk (Double bottom & twin top), Twin Bed, dresser, closet, sliding glass doors open to lower level deck
Photo Gallery
Click to display larger photo and captions
Rates & Availability
Check in 4 PM
Check Out 10 AM
3 Night Minimum Stay where nightly rate shown. 2 Night stays can be arranged for additional $100 cleaning fee
Weekly stays during season are Saturday to Saturday only
Rates are subject to change at anytime without notice and do not include NC taxes, optional pet fee, and $400 refundable damage deposit. Please use the "Instant Quote/Booking Tool" for a quote which includes these items 
**** We rent to family groups only – no spring break, college, high school groups, etc. You must be 25 years or older to rent. Paying party must be the one who signs the rental agreement and must be at the home for the entire rental period. ****
Use the "Book Now" feature to book your stay online
-or-
Use the "Send Inquiry" feature to send an e-mail
-or-
Call Elizabeth at (252) 689-SURF (7873)
You will receive a rental agreement to fill out and return via scan/email, fax or standard mail. To reserve we require 50% of the total and the remainder is due 30 days prior to arrival. Your reservation is not confirmed until first payment is confirmed received by owner. E-mail payment reminders are sent a week prior to being due. Keyless entry instructions are sent by e-mail one week prior to arrival. 
Reviews
Amazing Location
The Sea Urchin is in an amazing location right on the water! The beach is right out the door. It's located in an excellent central location of the Outer Banks just south of Nags Head. This is an ideal location for exploring the entire area. House was as advertised. Clean. Check-in and check-out were easy.… Read more "Amazing Location"
Laura
October 2017
Lovely old school Nags Head beach house
Great location. Fantastic ocean views.
Matthew K
August 2017
Amazing location and views
A great location to vacation. Nice beaches. Great views.
William M
July 2017
We loved it
We have stayed in Nags Head many times over the years. This is our favorite location yet. We fell asleep every night to the sound of the waves, and woke up every morning to dolphins swimming right in front of us. Elizabeth was very helpful. We will definitely be back!
Roy S
May 2017
Great Family Vacation
We loved this house! The location was perfect. You can't beat the front deck view! Would definitely stay here again.
Amanda E
April 2017
Lovely views, amazing location
Beautiful home, we would see dolphins in the morning swimming by. One evening we saw a whale. All while sitting on the deck of the house.
David S
April 2017
Wonderful Stay
We really enjoyed our stay here. Fantastic location and very comfortable house
Ian W
April 2017
Awesome
Off season in the OBX rocks and this place was perfect for my family.
Stephen T
February 2017
Best vacation ever
Our kids absolutely loved it. The best vacation ever! I told them we were planning to come back. They were so excited and asked if we could stay at the same house as last year. I told them I would see if it was available. They lived outside and didn't want to come in. Thanks… Read more "Best vacation ever"
Callie Cox
April 2016
Perfect Location! Back yard is literally the beach!
The Outer Banks is my absolute favorite place in the world! I love both the northern and southern ends of this magical place and this house sits right in the middle and directly on the beach with unobstructed views of the ocean! The back yard is the beach! When you leave the house, if you… Read more "Perfect Location! Back yard is literally the beach!"
Lauren B
November 2016
Stunning views and all the amenities
This house is Right On the Beach! From the living room couch and dining room table, you feel as if you could be at sea, such are the views and proximity of the ocean – extraordinary. The house itself is incredibly light-filled and has all the amenities. There had been a rough storm prior to… Read more "Stunning views and all the amenities"
Valerie F
March 2016
Excellent stay/views and experience
Review: My wife and I booked this house for a last min getaway and we are so glad we did. The owners are very kind and organized. They were able to accommodate our last min request to rent the home. They were very helpful with local tips of the area,too. The home sits on the… Read more "Excellent stay/views and experience"
Anonymous
May 2016
Nice lil paradise
Perfect location!!! The house is nice too, but we really didn't spend much time in the house other then sleeping. Can't beat the view from the second story deck. Watched dolphins and other wildlife every day from there. Would definitely stay there again!
Tate B
April 2016
So Comfortable
We've been going to Nags Head for many years. This is by far the best rental we've had. Perfectly located in the sense that we enjoyed a quiet beach but were minutes away from restaurants, entertainment, grocery stores, etc. The owners are lovely, promptly answering both my pre-arrival and post arrival phone and e-mail questions.… Read more "So Comfortable"
Laurie R
August 2015
Lovely beach house right ton the water
Everyone in our family agreed that we couldn't have found a better place to stay than The Sea Urchin Inn. The property is right on the water, so we enjoyed the sound of the waves day and night, and we loved that we could watch dolphins from the dining table! We highly recommend The Sea… Read more "Lovely beach house right ton the water"
Elise R
May 2015
Amazing views and experience!
The Sea Urchin Inn was perfect for a family weekend getaway. The convenience to the beach is unbeatable and the ocean views are spectacular! The top deck is the perfect spot for reading and sunbathing and the bottom deck provides amazing views and a quiet retreat. While the location and outside of the house are… Read more "Amazing views and experience!"
Kelly
April 2015
FAQ
Q. Is this home managed by a vacation rental agency?
A. This home is not managed by a vacation rental agency but by the owners themselves. Prior to us owning the home it was known as Pelican's Watch. It was also featured on HGTV's Beachfront Bargain Hunt as Ocean Dreams.
Q. What payment methods do you accept?
A. We accept personal checks and credit card (VISA, MasterCard, Discover, American Express).
Q. What are the dog rules in Nags Head?
A. Dogs are allowed on the beach at all times as long as they are leashed. Owners must clean up after their dogs. Anyone who violates the leash law is subject to a criminal and/or civil penalty. The owner/handler is responsible for and must remove feces and possess a bag/container for waste removal at all times. You can get more information directly from the Town of Nags Head's website HERE.
Q. Is there a maximum number of people?
A. The maximum number of people allowed is 12. This does not include infants in cribs.
Q. What is the cancellation policy?
A. All cancellations must be received in writing. Tenant is responsible for verifying that Owner has received the cancellation letter. A deposit paid hereunder shall be refunded less a $100 service charge and a 2.5% credit card fee on payments submitted (2.5% fee only applicable if payment was made via credit card), if written notice of cancellation is received on or before sixty (60) days prior to the commencement of the rental occupancy. In the event of cancellation or default after such time period, any remaining balance will still be due and required immediately upon cancellation. After the total balance is paid in full, every effort will be made to re-rent the Property; however if it cannot be re-rented, the rental money will be retained and the security deposit will be returned. If the balance is not paid in full upon cancellation, owner retains the right to keep any deposits paid and re-rent the house without refunding the Tenant because the contract was breached and balance was not paid in full. Tenant will be responsible for any discounts to the rental rate extended to re-rent the Property. Owner urges Tenant to purchase trip cancellation insurance. Please note: Nonpayment of any deposits or balances due may result in reservation cancellation. There is no refund for any cancellation of a reservation made less than sixty (60) days prior to commencement of rental occupancy.
Q. What restaurants and shops are near your home?
A. The Sea Urchin Inn is close to many great restaurants including but not limited to, Fisherman's Wharf, O'Neal's Sea Harvest, Sugar Creek Seafood, Sam & Omie's, Owens', Basnight's Lone Cedar Cafe, Tale of the Whale, Miller's Waterfront, Pamlico Jacks, the Dunes, and many many more.
Q. What things are there for kids to do in the area?
A. The possibilities are endless! From building sandcastles, flying kites, boogie boarding, surfing, kiteboarding, windsurfing, mini golf, go-karts, aquarium, movies, and bowling the OBX has you covered!
Q. Are linens provided?
A. Comforters, pillows, bath mats and kitchen towels are provided. Sheets and towels can be either brought from home or rented from a local company. 
Didn't get your answer? Feel free to Contact Us.
Weather